The battle of Leros island, located in the south-eastern Aegean Sea marked the history of the island during the second world war. The island was occupied by British forces since 15th September 1943, after the surrender of Italy on 8
September 1943. The location of the island and the coastal geomorphology revealed Leros as strategically vital for Allied and German forces. The battle began with German air attacks on 26 September. All forces involved suffered heavy casualties during the battle which lasted 52 days and ended with the capitulation of the Allied forces. Today wrecks lay on the seabed keeping the memory of that battle. Furthermore, the island of Leros hosts ecosystems which
are of great importance in marine environments. A marine remote sensing survey was carried out in the coastal zone (up to depth of 100m) of Leros Island between 10 and 18 June 2011. The objective of this survey was twofold: (i) to map P. oceanica meadows and coralligene formations and (ii) to detect and identify targets which are probably related to Leros Battle during the WW II.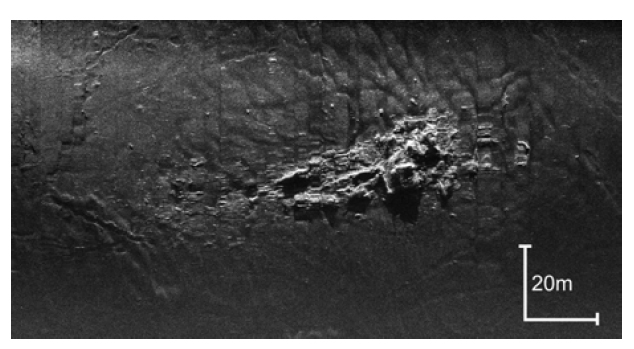 Sonograph from Lakki Bay, presenting the remains of the flagship Queen Olga.
Relative publications & Source:
Geraga, M., Katsou, E., Christodoulou, D., Iatrou, M., Kordella, S., Papatheodorou, G., Mentogiannis, V., Kouvas, K. (2013). Mapping natural and cultural marine heritage sites in Leros island Greece. In: Proceedings of 40th CIESM Congress, 28 October-1 November 2013, Marseille, France, p. 847.